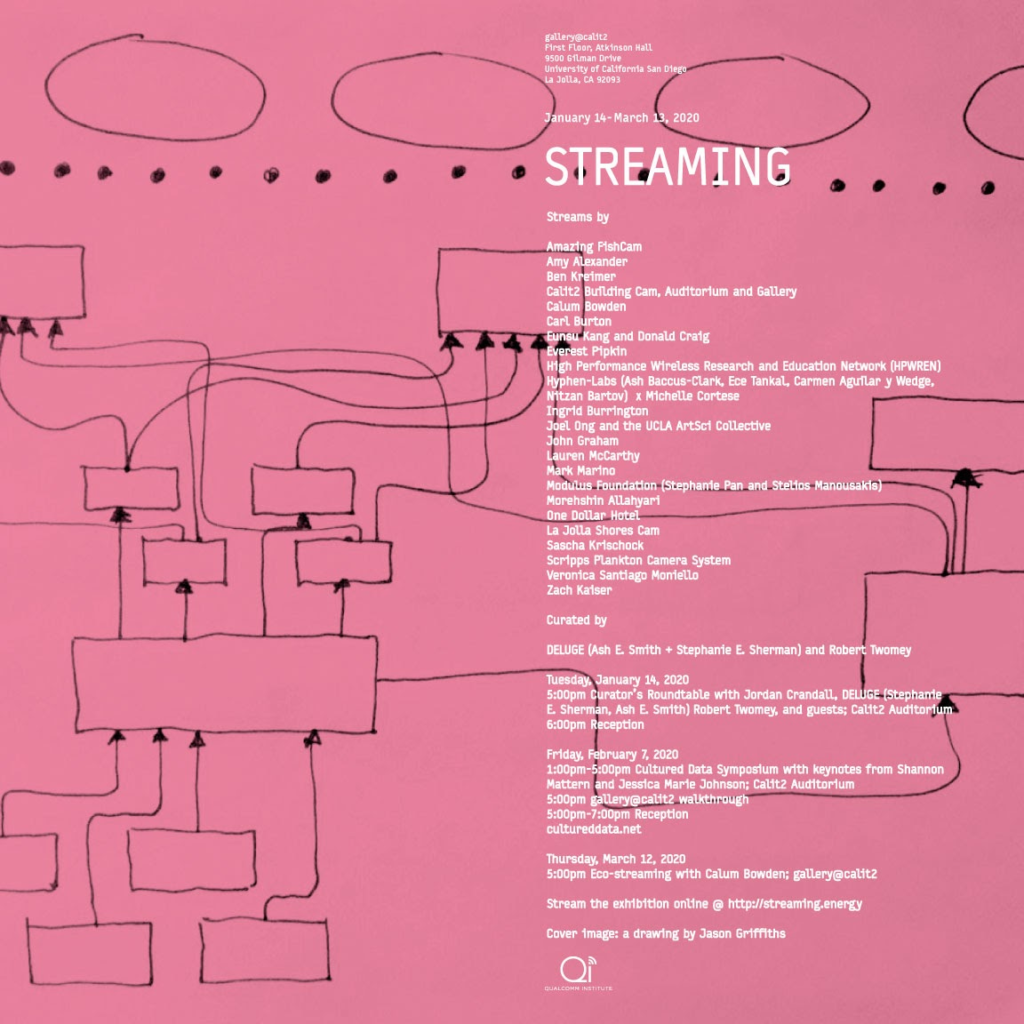 STREAMING is an exhibition at gallery@calit2 that explores networked culture streams and their ecological and social costs, proposing alternative loops for channeling digital flows and materializing data impacts.
Streaming is a real-time, simultaneous connection, a massive transfer of live data happening around us all the time. It is always on, a persistent flood, a demanding feed with a surfeit supply.
Streaming feels light, but is heavier and more carbon intensive than it seems. In streaming, network infrastructures maintain a continuous connection from end to end, rather than intermittently transmitting self-contained data packages. Digital immediacy is ecologically expensive and energy intensive. Places and populations bear the actual weight of the virtual.
The real costs of transmobile transference and cyber telepathy are typically secret externalities. Current economies–of capital accumulation, of consumer attention, of identity implication–don't account for the real costs of an ever-increasing need for incessant connection and communication. Live information produces public and private dataset value, while realigning borders and bandwidths, affiliations and divisions. Who bears the cost of streaming? Who profits? Who benefits? Circulation frameworks configure and make visible signals, cycles, and underaccounted secretions.
The cyberstream is shifting proximities. Strangers are getting stranger, becoming data bodies and hyperselves. We want to be closer all the time, adding fragility to complexity. Meanwhile we are pulling further apart. Noise and signals are harder to separate. With an ever unfolding backdrop of mediated liveness, there is less and less silence in the seams of consciousness, less stability in the periphery.
This show is about the sluices and surges of streaming scenes. It features surveillance, selfies, sequences, substrates, and subliminal messages, live and archived. It reroutes network flows to construct an alternate streaming assemblage. Offsets propose a regenerative spiral, a recursive microworld of virtual logics and attempted loops. As you watch, it composes a rough calculus, a cursory geometry of networked expenditure.
Curated by DELUGE (Stephanie E. Sherman, Ash E. Smith) and Robert Twomey http://gallery.calit2.net/portal/
Gallery Hours
January 14-March 13, 2020
12pm-5pm Monday-Friday
gallery@calit2 will be closed on UCSD observed holidays
Curator's Roundtable
Tuesday, January 14th, 2020
5:00-6:00pm Discussion with Jordan Crandall, DELUGE (Stephanie E. Sherman, Ash E. Smith) Robert Twomey, and guests; Calit2 Auditorium. Stream Online: https://www.youtube.com/watch?v=kR3DZh9RjWs
Cultured Data Symposium
Friday, February 7, 2020
1:00pm-5:00pm, Keynote from Shannon Mattern
Calit2 Auditorium 5:00pm-7:00pm Reception and gallery open
cultureddata.net
Eco-Streaming
Thursday, March 12, 2020
5:00pm Eco-streaming with Calum Bowden; gallery@calit2
Stream the exhibition online http://streaming.energy