Beyond the Black Box is a performance and lecture on embodied interactions in humans and machines. Over the course of 30 minutes, three human and robot participants unpack the ways that intelligence and creativity require a body. Through a mix of spoken text, collaborative movement, and embodied interaction—the performance explores elements of intimacy and play in human-robot interaction, and ultimately wrestle with who (and what) might properly be considered an embodied intelligence.
Our three presenters are Hortense Gerardo (movement), CRANE (co-robotic arm with Twomey as operator), and PEPPER (humanoid robot with Eguchi as operator). Collectively, this group has deep prior experience in performance and movement (Gerardo), creative robotics (Twomey) and human-robot interaction (Eguchi and Twomey).
—-
Artificial Intelligence technologies are commonly referred to as Black Box technologies. This is due to our lack of insight into the models, their lack of explainability. Similarly, robots driven by AI algorithms are frequently opaque in the operations and decision making. The goal of this project, "Beyond the Black Box", is to open up these boxes and reveal something of the algorithms and design choices that shape our interactions with robots.
We ask what roles our bodies—robotic, humanoid, human—play in establishing intimacy and trust in human-robot interactions. How do the particular features of these bodies, their overall design—whether anthropomorphic familiarity, alien beauty, or some uncanny in-between—shape what types of relationships are possible between humans and machines.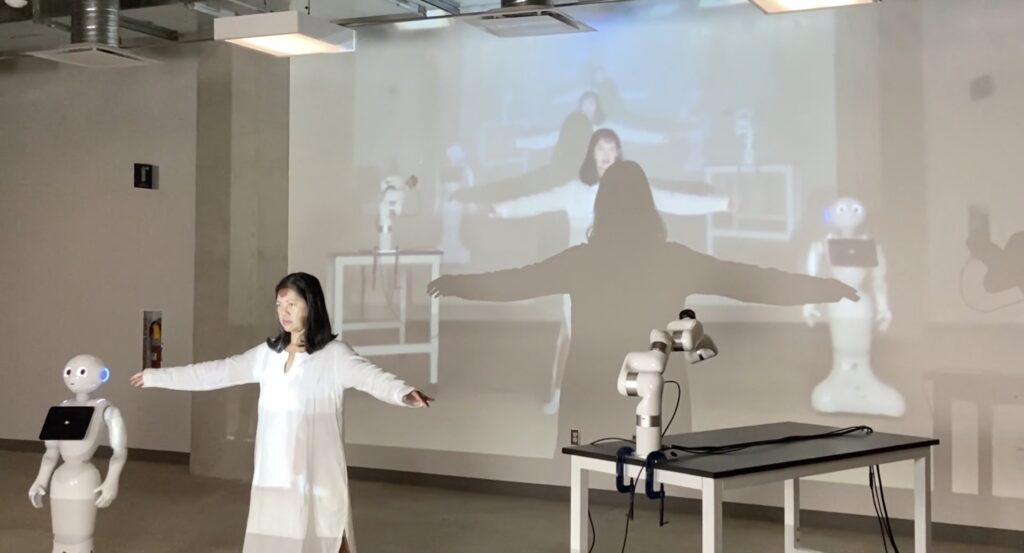 Read more here:
Robot and digital double in NVIDIA Isaac Sim